Ship Agency
Service Overview
Our Mission
Strong Presence in Japan Ports

Econet provides an extensive network of port options across Japan. We respond in current time to assist you in any kind of situation. Our trustworthy service is built on human relationships from our sincere heart.

Wide Range of Vessels

Econet offers personalized choices on every type of bulk carriers whether it be a coal vessel or a cement carrier. We specialize in global transportation, and draw on our know-how and past experience to properly handle your vessel. With us, you will benefit from our expertise.

Comprehensive Customer Experiences

Econet acts in the best interest of our customers. We handle your vessel with excellent care and accommodate your crew members with hospitality. Your vessel will be safe with us from any unwelcome event or weather.

Advanced Network of Local Agency

Econet appoints experienced professionals to quickly handle any issue with local ports. Our team's in-depth knowledge presents effective solution to serve you deep satisfaction.
Our Advantage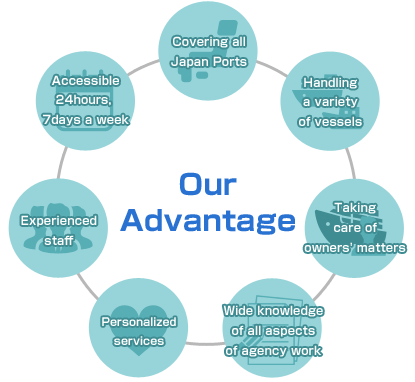 Covering all Japan Ports
Handling a variety of vessels
Taking care of owners' matters
Wide knowledge of all aspects of agency work
Personalized services
Experienced staff
Accessible 24hours, 7days a week
One-stop Service
One-stop Service at Full Speed Ahead
We are one-stop-service tailored only for you. We differentiate from other competitors through detailed analysis and up-to-date paperwork. The one-stop-service, which monitors keen attention to everything in arrival and departure at Japan ports, is no other.
Spare Parts
We deliver spare parts at a competitive price and with least ecological footprint possible. Your parts will be transported via air, land (truck), or sea while minimizing dues for custom clearance. Only Econet knows the optimal way to deliver your goods.
Your Chief Engineers are important to us, and our company wishes to support them with utmost care at an economic cost.
Collecting your Spare Parts/Charts/Publications
Customs formalities for transit to the port
Storage in bonded store
Customs Clearance
Land-Transportation
Loading by boat if necessary
Service Engineers
Service Technicians